JUAN
FALU'
Musician, Songwriter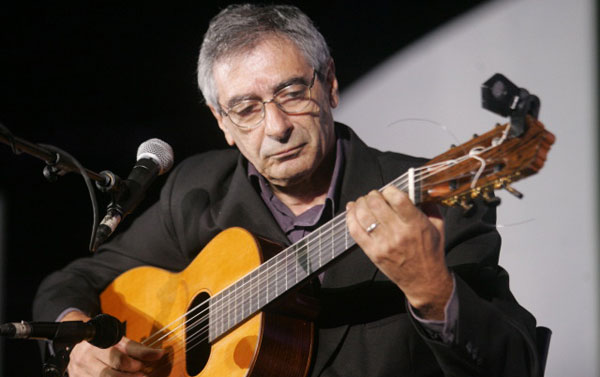 Biografia
Juan Falú è un musicista autodidatta, considerato come un riferimento fondamentale per la musica argentina, nella sua doppia condizione di compositore e interprete.
Si è distinto come personalità eccezionale della cultura dalla legislatura di Buenos Aires.
Ha vinto il 2000 National Music Prize, assegnato dal governo del suo paese; il Premio Clarín per il miglior artista della musica popolare argentina nel 2001 e nel 2007 e il Premio Gardel, a cui è stato candidato in cinque edizioni. Le sue opere per chitarra ricreano le radici musicali argentine, essendo anche un creatore di canzoni che compongono il repertorio di importanti artisti del folklore argentino.
Come interprete, Juan Falú rivela una profonda conoscenza della musica della sua terra, proiettandoli dalla radice verso nuovi orizzonti e con una riconosciuta capacità di improvvisazione.
Ha offerto concerti in prestigiose sale in oltre trenta paesi delle Americhe, Europa, Asia e Africa, per 30 anni senza interruzioni.
Molti dei suoi numerosi dischi sono stati citati tra le migliori produzioni dei rispettivi anni, dalla stampa argentina e dai media internazionali specializzati.
È stato "artista eccezionale dell'anno" in diversi bilanci annuali di media specializzati. Una parte del suo lavoro musicale è stata pubblicata in Argentina, Francia, Belgio, Messico e Costa Rica.
È un insegnante presso l'Università di San Martin e un ex professore al Conservatorio Manuel de Falla di Buenos Aires.
In entrambe le istituzioni, ha promosso, rispettivamente, la creazione della Laurea in Musica Argentina e la carriera di Folklore e Tango.
Ha integrato il Direttorio del Fondo Nazionale delle Arti della Repubblica Argentina, dal 2005 al 2016.
Dirige il festival Guitars of the World, considerato il più grande evento internazionale del suo genere.
Ha ricevuto l'Honoris Causa dall'Universidad Nacional de San Martín, in Argentina.
L'inconfondibile stile di Juan Falù è fortemente influenzato dalla musica tradizionale argentina.
Il tango, la milonga, la samba, il valzer sudamericano costituiscono i temi ritmici principali del suo repertorio.
Falù è anche rinomato per la sua capacità di improvvisazione con continue variazioni sui temi presentati ai suoi concerti.
Maggiori informazioni:
+39 (0)546 621676
ombretta@elcobravenus.com
Line up:
Biography
In his dual role as composer and artist, Juan Falú is a cornerstone of Argentinean folk music.
He obtained the prestigious National Music Award since 2000 to 2010, and has been named "outstanding artist" repeatedly by the music press in Argentina.
His music for guitar recreates the freshness and inventiveness of Argentinean folk rhythms, and many of his songs are already established within the repertoire of the most outstanding Argentinean folk musicians.
As an interpreter, Juan Falú employs his vast knowledge of the different Argentinean folk rhythms, and displays an innate command of the artistry of improvisation.
Add to this combination his natural charisma, and you have a recital in which each song is delivered in a unique form. In reference to his improvisational skills, he has received praise from different musicians.
The accomplished classical guitarist Eduardo Fernandez has called him "a real time composer."
He has toured North, Central and South America, Europe, Asia and Africa, and has offered concerts in prestigious halls in more than thirty countries.
Several of his recordings are considered among the best record - ings of the year, as noted in the Argentinean and international press that specializes in guitar music.
Some of his prolific musical compositions have been edited in Argentina, Belgium, Costa Rica, and France.
Juan Falú remains a vital musical force in his community, where he directs the festival Guitars of the World, considered the largest international event in its genre.
He also teaches in the Manuel de Falla Conservatory, in Buenos Aires, where he has created the first curricula for Folklore and Tango.
The unmistakable style of Juan Falù is strongly influenced by traditional Argentine music.
The tango, the milonga, the samba, the South American waltz are the main rhythmic themes of his repertoire.
Falù is also renowned for his ability to improvise with continuous variations on the themes presented at his concerts.
Tour dates and more information:
+39 (0)546 621676
ombretta@elcobravenus.com
Line up: